We're pleased to announce the release of Stable Audio, a new generative AI music service. Stable Audio is a collaboration between Stability.AI and Winder.AI that leverages state-of-the-art audio diffusion models to generate high-quality music from a text prompt.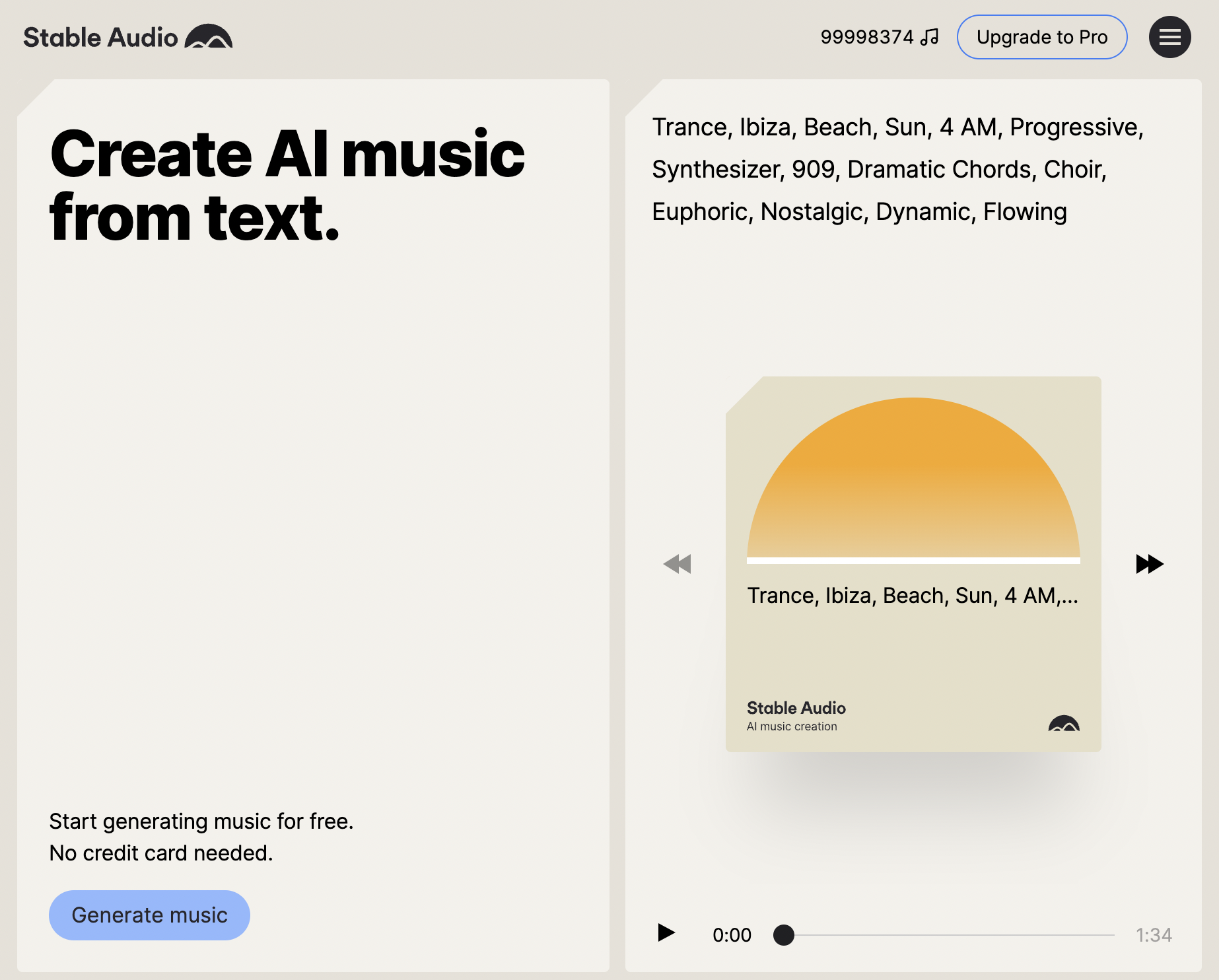 What is Stable Audio?
Stable Audio is a new generative AI music service that allows you to generate high-quality music from a text prompt. The service is powered by a state-of-the-art audio diffusion model that has been trained on a large corpus of licensed music from a variety of genres.
You can try Stable Audio today at StableAudio.com. Once signed up, simply enter a text prompt and Stable Audio will generate a high-quality music track for you to play and download.
How does Stable Audio work?
At the heart of the AI product is a model capable of transforming text into audio. This process takes several steps:
The text is converted into high-dimensional vectors called embeddings that represent the characteristics of the music.
A pre-trained diffusion model takes the representation and configuration as the input and feeds that into a noisy signal representing the seed for the music.
The diffusion model iteratively de-noises the signal to leave high-quality music.
The model is diffusion model is initially trained on a large corpus of well-labelled, fully licensed music from AudioSparx. Noise is added to the music and the model is trained to recreate the perfect music from the noise. This process is repeated for all music and lots of different noise types and levels. Eventually, the model can recover music from noise. You can read more about it in Stability's blog post.
Although crucial, the model is only a small part of the whole system. To expose the product to customers, Stable Audio required a full AI product suite, including:
A web application to allow customers to interact with the AI product.
Backend services to handle the AI product requests, including the API, authentication, firewalls, scaling, etc.
A payment system to allow customers to pay for the AI product.
An identity system to allow customers to log in and manage their AI products.
And of course, the MLOps infrastructure to train, deploy, and monitor the AI product.
Tips for Getting Started with Stable Audio
Stable Audio is a brand new way of creating music and so we're all still learning how best to use it. But here are some tips that we've found useful to help you get started:
Be specific: words like instruments, genres or the BPM affect the details of the song.
Add a theme: words like happy, sad, bright, and peaceful change the overall feel of the music.
Set the scene: try adding keywords that describe where the music will be used, like shopping, or presentation.
Build the composition: use instrument names to change the instruments used in the music, whilst retaining the same genre or mood.
How did Winder.AI help?
Winder.AI worked closely with the highly experienced team at Stability.AI to help develop the entire AI product. Winder.AI provided both AI consulting and AI development services to help Stability.AI develop the product, whilst leading the core engineering effort. Leveraging our AI product development expertise, we were able to deliver the bulk of Stable Audio in just a few months to an MVP quality.
Get Started with Stable Audio
Stability.AI has graciously provided a substantial free tier so you can play with Stable Audio today at StableAudio.com.
Find Out More About Winder.AI
If this work is of interest to your organization, then we'd love to talk to you. Please get in touch with the sales team at Winder.AI and we can chat about how we can help you.
Contact Us
Learn More
Below you will find a list of links to learn more about Stable Audio: